First Cruise Ship in Nepal Reported on BBC News.
'Ships' being built in Nepal, 'Narayani river to be launched' in two months
Rhino Water Entertainment Private Limited has been building a ship at Kavreghat in Chitwan for six months.

Ram Chandra Kandel, managing director of the company, says that when he went to Germany for the first time in connection with the study, he came up with the idea of ​​building a ship.
"When I was in Europe, traveling on a cruise from Sweden to Finland, I thought that ships could also be operated on Nepal's rivers," said Kendall.

In this way, Nepal can operate its own watercraft

When will Nepal be connected to India by waterway?

He said that he has started building a ship with his friends to give concrete form to the same idea.
This is how a ship is being built
Kandel claims that the ship is being built for the first time in Nepal.
For that, cruise manufacturers from Singapore, Malaysia, China, Germany and India have been visited, he said.

Technicians from Singapore and India studied the Narayani water flow measurement and other challenges and conducted an environmental impact assessment for a year to operate ships on the Narayani River
It is estimated that around Rs 350 million will be invested for the construction of the ship. India's Grandeur Marine International Company is building the ship with Norwegian technology.
The planner expects that the watercraft, which is targeted at the tourism year 2020, will help in tourism.
He said that his aim was to make the tourists visiting Chitwan enjoy the Pan Ship on the Narayani River after visiting the Chitwan National Park.

"Ships are being operated on the Narayani River to develop the tourism industry," Kandel said.

It is said that the ship, which is being prepared for operation in two months, has already got permission to operate from Gyaneshwar Community Forest to Devghat-Golaghat.

'Possibility of waterways on three major rivers'

'Nepal is not completely landlocked, ships before railways'

"The train is coming, the ship is running ... the station, the ticket counter are all open"

Golaghat at the confluence of Narayani and Rapti rivers is on the border of Chitwan and Nawalparasi districts.
The 100-meter-long and 25-meter-wide vessel will carry two people and two hundred people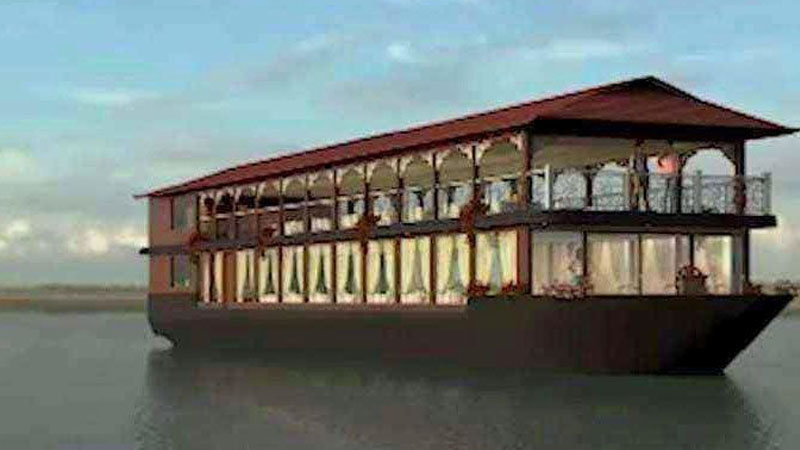 The ship will look like this after completion of construction
It is said that food and lunch will be provided in the morning, afternoon and evening on the ship. It will take three hours to complete the journey from Devghat, the holy place of pilgrimage, to Golaghat, the border of Chitwan. The ascending and descending port of the ship is built at Kavreghat of Gyaneshwar Community Forest in Chitwan